People love to live in Charlotte. Charlotte-Mecklenburg has one of the highest in-migration rates in the nation and consistently ranks in the top 10 most popular U.S. moving destinations. While some of this growth can be attributed to a fast-growing economy, much can be attributed to its low cost of living and high quality of life.
Charlotte's housing market is experiencing one of the strongest recoveries in the nation. Whether it's a condo in uptown, an historic home in the suburbs, or a new home on Lake Norman, newcomers have a diverse choice of neighborhoods to choose from.
Ballantyne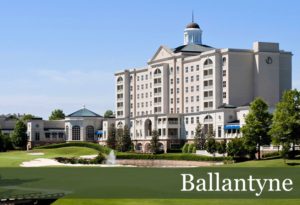 Ballantyne is a 2,000-acre master planned community in South Charlotte that was developed in the 1990s on farmland once owned by the Harris family, one of Charlotte's oldest and most prestigious families. Combining all elements of life, the area has a wide range of housing, employment, shopping and entertainment options. The area's crown jewel is the Ballantyne Resort, a AAA four-diamond hotel and spa and a par 71, five-star championship golf course.
Center City
If you'd like to live close to Uptown but not in the direct shadow of the skyscrapers, you have a huge range of options, both in terms of price and type of housing. Charlotte's Center City surround the Uptown area.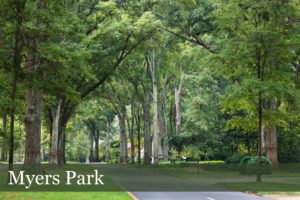 Old Charlotte – Compared to most cities, old Charlotte doesn't look old at all. These neighborhoods were Charlotte's first true suburbs. They began to emerge in the late 1800s thanks to streetcar routes.  Myers Park and Eastover are the grande dames of Old Charlotte with their stately homes and oak-canopied avenues.
Dilworth, created in 1898, experienced a revival during the 1980s and is now a comfortable, elegant neighborhood.  SouthEnd, located next to Dilworth near South Boulevard, has recently redeveloped into a hot spot, drawing people from all over the city to its restaurants, nightclubs and businesses.  And new apartments and condos continue springing up along the LYNX Blue Line, which runs through the heart of SouthEnd.
Cherry (adjacent to Myers Park), Biddleville and Washington Heights (off Beatties Ford Rd.) are among Charlotte's oldest neighborhoods.  Commercial developments in and around these neighborhoods are attracting investors and the landscape of these neighborhoods continue to change.
Some other neighborhoods in "Old Charlotte," each in various stages of revitalization, include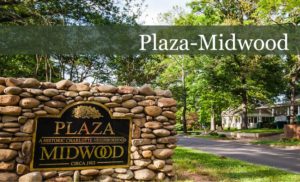 the Wesley Heights local historic district (northwest of Center City between W. Morehead and W. Trade Streets), Wilmore (off South Tryon Street), Elizabeth (area around East Seventh Street), Crescent Heights (off Randolph Rd.), Plaza-Midwood (along Central Avenue and The Plaza), and Belmont (off 12th Street near Alpha Mill, Charlotte's oldest textile mill now renovated into trendy, upscale apartments).
Several neighborhoods in the Center City, such as Chantilly and Sedgefield, are nestled near Old Charlotte neighborhoods, enjoying a certain level of prominence by association. Housing prices in these neighborhoods have climbed rapidly over the last decade.
NoDa, a segment of North Davidson Street approximately two miles from Uptown, is a National Register Historic District in recognition of the part the area's mills played in textile history.  The last mill shut down in the 1970s, and the area began attracting artists who envisioned and created an arts community. NoDa is now home to a variety of funky galleries, restaurants, live music venues and housing options.  With the light rail now servicing this area there is a boom that likely will rival that of Southend.
Eastside
Some of the earliest residential movement outside of the city headed east along Independence Boulevard, Central Avenue, Albemarle Road and Monroe Road. These roads continue to support this area, which is full of older, established neighborhoods and many apartment complexes.  Central Avenue is known for its diverse shops and restaurants.
Mountain Island Lake
Mountain Island Lake, which covers 3,235 acres, is bordered by Gaston County on the west and Mecklenburg County on the east. Duke Energy created the lake in 1924.  Much of the watershed is protected from development, since the lake provides drinking water for most Mecklenburg and Gaston County residents.
Once a small, farming village known as Shuffletown, the Mountain Island area has become a popular location for residential development.  Numerous new housing developments are emerging along Mt. Holly-Huntersville Road, which runs parallel to I-485 in this area from I-77 to Mountain Island Lake, and in the Northlake Mall area.
Southeast Charlotte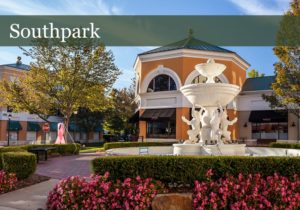 When the city started expanding rapidly during the 1960s and '70s, most of the development headed south. The Cotswold neighborhood was one of the first areas, developed in the 1960s. SouthPark Mall, established in 1970, became the catalyst for a host of retail, business and residential development.  Today, SouthPark feels very urban and more walkable than even a few years ago.  Throughout the area, you'll find plenty of housing options, ranging from small brick ranches to new-home communities to mansions.
Southeast Charlotte continues to be the best place in town to find upscale shopping, both at the mall and in several mixed-use developments in the area, including Phillips Place, Piedmont Town Center and Morrison.
Southwest
The southwest corner of Charlotte and Mecklenburg County is home to large business parks on Arrowood Road and Westinghouse Boulevard, as well as one of Mecklenburg's largest parks, McDowell, along Lake Wylie.  Airport expansion and the I-485 outerbelt are luring even more businesses.  The widening of N.C. 49 through southwest Charlotte into South Carolina bolstered development in the area, including several expensive developments along the shores of Lake Wylie.  Duke Power created Lake Wylie in 1904 and enlarged it in 1924.  With 12,455 acres and 325 miles of shoreline, the lake provides water recreation to residents and visitors in three counties – Mecklenburg and Gaston in N.C. and York County in S.C. Major mixed-use developments in this area include Arysley and Whitehall.
University City
University City, home to UNC Charlotte and University Research Park, began to blossom in the late 1980s. The area is one of Charlotte's largest employment centers, with many technology and banking firms with offices in University Research Park and nearby business parks. Housing in this area is a great mix of single-family and multifamily choices.  This area also has some of Charlotte's best choices for apartments, condominiums, town homes and patio homes.
Retail development is booming in this area, with more than 3 million square feet of stores centered on W.T. Harris Boulevard and I-85, including the new IKEA. The region's largest outlet mall, Concord Mills, lies just over the Cabarrus County line along I-85. Northlake Mall is located at the I-77 and W.T. Harris Boulevard junction.
Uptown Charlotte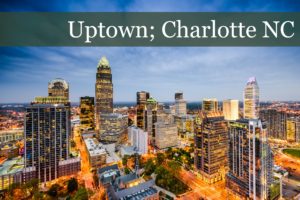 Uptown Charlotte is one of the trendiest residential areas, with glitzy condominiums, rehabbed lofts, new single-family homes, town homes and elegant Victorian homes within blocks of each other. Nearly 13,000 people currently reside within the Uptown loop, the area encircled by I-77 and the John Belk and Brookshire freeways.  By 2028, approximately 100,000 people will reside here.
Charlotte was originally divided into four districts, or "wards," with Trade and Tryon Streets serving as the inner boundaries.  The city still uses the terms to identify areas Uptown. Fourth Ward was the first to be revitalized, starting in the 1970s.  Today, it includes homes, condominiums and apartments in a Victorian atmosphere, within walking distance of the cultural district and office towers.
Third Ward has experienced a resurgence in recent years, thanks to its proximity to Bank of America Stadium (home of the Carolina Panthers) and the development of offices, shops, restaurants and the cultural facilities campus expected to open this year.  Another addition is Johnson & Wales University, which revolutionized Third Ward when it opened its doors in 2004.
First Ward is the home of Time Warner Cable Arena, ImaginOn, several museums, restaurants and night life. It has a range of housing options, from apartments to single-family homes. And the LYNX Blue Line (light rail) originates at 7th Street in First Ward.
Formerly an area devoted to government buildings, Second Ward is also becoming a residential area.  The luxurious Ratcliffe on the Green condominiums includes an interactive park with fountains and walkways.  The EpiCenter is a nightlife Mecca with several clubs and lounges, a movie theater, a bowling alley, restaurants and retail, as well as a condo tower that is still under construction.
Westside
The Westside saw its first suburban growth in the 1950s and '60s.  The area is experiencing a new growth spurt with the completion of the western portion of the I-485 loop and the U.S.  National Whitewater Center. And as home to the Charlotte Douglas International Airport and with easy access to I-85 and I-77, the Westside is a great area for frequent travelers who want to get in and out of town quickly.
The Whitewater Center has the world's only multi-channel recirculating whitewater river, as well as challenge courses, 11 miles of biking/hiking/ running trails, climbing walls and a climbing school, guided kayak tours along the Catawba river, a conference center and event venues, and The River's Edge Bar and Grill overlooking the whitewater course.  The Whitewater Center brings tourists from all over the world.
North Mecklenburg County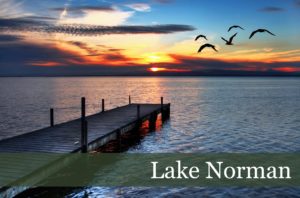 North Mecklenburg County is home to Lake Norman and three bustling towns: Cornelius, Davidson and Huntersville.  With 520 miles of shoreline, Lake Norman is the largest body of fresh water in North Carolina. Duke Power Co., now Duke Energy Corp., created the lake in the early 1960s when it dammed the Catawba River at Cowans Ford to provide cooling for McGuire Nuclear Station. Mecklenburg, Lincoln, Catawba and Iredell counties border the lake.  Residents and visitors enjoy boating, waterskiing, swimming, kneeboarding and fishing. And several golf-course communities have been developed at the edge of Lake Norman, so residents can enjoy the beauty of both the lake and golf courses.
Cornelius – As a gateway to Lake Norman, Cornelius has become an attractive residential location with 21,000 residents. The popular area around Lake Norman has spawned numerous residential and commercial developments to serve its growing population.
Davidson – Just north of Cornelius is Davidson, the home of Davidson College. Residents enjoy cultural and sporting events offered by the college, as well as the amenities of Lake Norman and the town's New England-flavored main street.  The town has a little fewer than 10,000 residents. About 1,700 students attend Davidson College, one of America's premier liberal-arts schools.
Huntersville – Fifteen miles north of Charlotte and easily accessible by I-77, Huntersville is home to about 40,000 people. Birkdale, one of Huntersville's most popular areas, is a 52-acre mixed use development modeled after a New England sea coast town. It offers apartments, single-family homes, shopping, dining, movies, live entertainment in warm weather and a splash fountain that will entertain the kids for as long as you can stand it. Huntersville is also home to several historic sites including Latta Plantation Park, a large nature preserve and home to the restored antebellum Latta Plantation.
South Mecklenburg County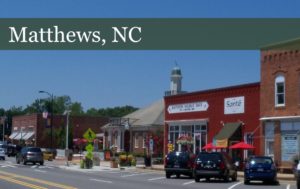 Matthews – A rapidly growing town, Matthews is popular for its antique and craft shops, new-home developments and convenient location. With a population of approximately 25,000, the town is balancing new development with the preservation of historic buildings, some dating back to the 19th century.
Mint Hill — Mint Hill is primarily a residential community, with about 20,000 residents. The town has a strong retail market, a historical society, an athletic association and a number of civic clubs.
Pineville — Once a mill village, Pineville calls itself "the 'biggest' small town around" with a population of only 6,000 but more than 6 million square feet of retail space.  Just 12 miles from Uptown Charlotte, Pineville is a dining and shopping mecca with options ranging from quaint antique stores in Pineville's historic downtown to national chains at Carolina Place Mall. The LYNX Blue Line terminates just outside of Pineville, linking it directly to Uptown Charlotte.
If our agency can provide you with information on any of the above listed neighborhoods and/or areas in Charlotte don't hesitate to let us know.